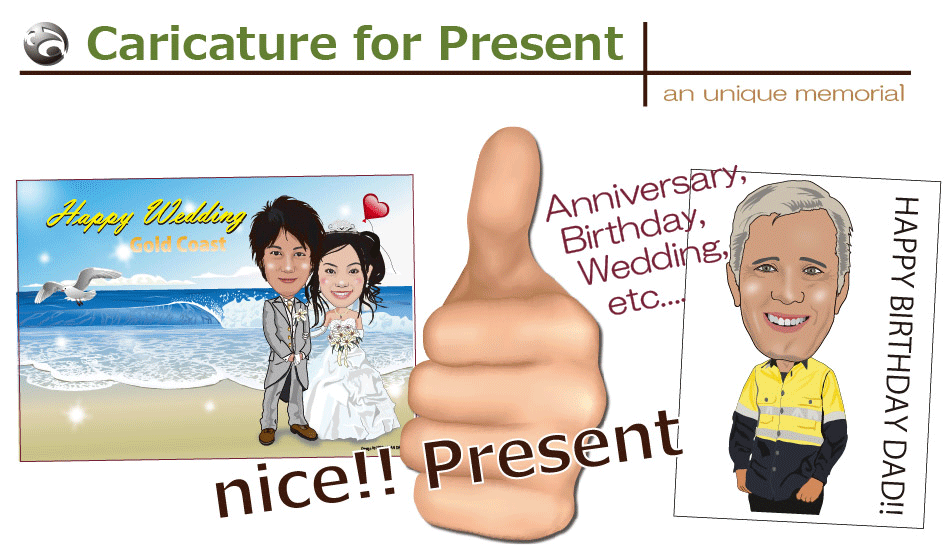 Caricature is unique! In remembrance of your big life event, or as a unforgettable only one gift for your precious person, this can be the best!
This is ideal for your Wedding (Wedding invitations, Welcome board for your reception party, Thanks cards etc.). Also, Caricature can be a distinctive gift for Birthday, Anniversary and Special occasions.
A gift caricature is to be delivered via email as an attached file or downloaded from the link on our webpage. It can be printed from your home printer or with any retail printer. The delivery format is a form of high resolution digital image and press ready PDF (both .jpg and .pdf) (size upto A4).


Gift Caricature can be drawn for 1 person (birthday, congratulation etc.), for 2 persons together (wedding, anniversary etc.), or for whole family. Pet caricature is also available.
Caricature for present is include:Caricature for per person, Customised Costume(*extra cost may be applied for too complicated one), Insertion of a text data (message etc.), Printable A4 high resolution Digital Caricature image, and Simple back ground drawings. (*extra cost may be applied for too complicated one).
As an optional, small personal belongings, big things, and/or precise background can be drawn at extra charge).